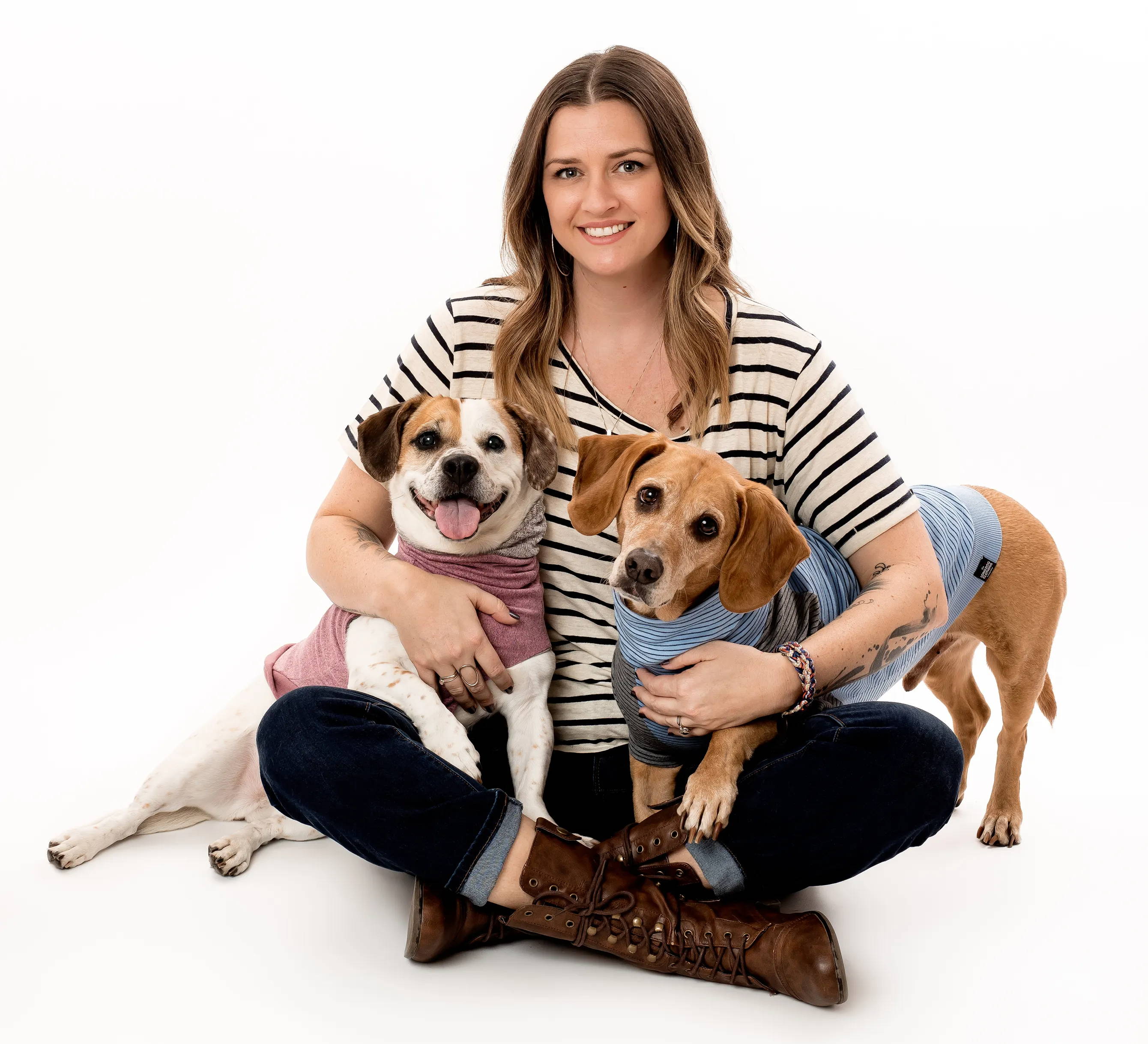 How do I measure my dog?
A soft tape measure is best, but you can also use anything from a string to a ribbon to dental floss and take that over to a ruler or measuring tape to check it! Oh, and you should also use our nifty sizing chart which you can find here to find out your dog's unique size. Our sizing chart is sometimes different from other brands because we carry more sizes, and that may shift your dog's usual size into one that you were not expecting. We are always here to answer any questions you may have about measuring or choosing a size if your pup falls in between sizes. You can email us directly at customerservice@longdogclothing.com for help with this!
Q: How do I care for my Long Dog clothes?
We recommend washing in cold water and laying flat to dry to preserve fit and color. Our clothes are made from cotton and sometimes polyester, so both of those fibers can be put in the dryer, but the garments can shrink slightly or fade over time. Our raincoats should be laid flat to dry to preserve the integrity of the waterproof coating longer.
Q: How are you sustainable?

We have a line of sustainable apparel that includes organic cotton shirts and fabrics made in OKEO-TEX certified factories. These Standard 100 textiles are tested for harmful chemicals from the threads on up. This means garments made with these fabrics are never harmful for animals or humans.

We use EcoEnclose packaging from recycled goods, and additionally, that packaging is reusable and recyclable for the consumer. Our hang tags are also made from recycled kraft paper.

We manufacture our clothing locally, so any extra carbon emissions from oceanic freighters bringing finished goods from overseas is eliminated.
Q: Where do you make your pawesome clothes?

Our clothing is all made in the USA! We're proud to have our garments made right here in Los Angeles, CA. Local manufacturing is also another way we help the environment. Not only are we reducing our carbon footprint by not requiring the use of freighter ships to import finished goods, the American economy will benefit from keeping jobs here at home and helping other small businesses flourish.
Q: How does my purchase help dogs in need?

We started this company with the goal of helping shelter dogs from the beginning. We take 15% of our proceeds from each purchase and donate that amount to one of our local partners. These donations are used for animal care, meals, and sometimes adoption fees. You can read more about our donations and our partners here: charity
Q: What kind of dogs fit Long Dog Clothing?

Long Dog Clothing fits mostly all breeds, although the specially tailored details really help our lengthiest friends look studly. Breeds like bassets, corgis, and dachshunds will especially appreciate our fit, but we have seen many other breeds from beefy to tall to XXL benefiting from our specialized designs!
Q: What's different about Long Dog Clothing?

We're glad you asked! It took us more than 6 months and over 11 prototypes to design clothing with specially placed armholes, extra back length, shorter sleeves, and extra room for our broad chested friends. No more bare chests, pinched armpits, or crop tops for your long fur-babies!
Dewlap is technically a "longitudinal flap of skin that hangs beneath the lower jaw or neck" of your long dogs--basically it's all that extra skin you'll notice around some of your lengthy pups' necks! All of our Long Dog Clothing has been specifically designed to accommodate this special feature of long dogs, but it also creates a stylish cowling effect on dogs that don't have that extra skin or floof. Dogs with or without a dewlap will still wear our clothing comfortably and fashionably.
Q: Are some of your sweaters reversible?
Yes they are! We have a line of sweaters that are fully reversible, meaning you're getting two distinct looks with every garment. Not only does this allow your pup to model multiple looks, but it makes our shirts more durable and warmer because they're fully lined!
Q: Will my long dog be happier in their Long Dog Clothing?
Only by, like, a million percent. But almost just as important, is how happy you'll be when you see your lengthy friend looking ridiculously, ridiculously good looking in their new threads!